Upcoming Events
Saturday, Sept. 21, 2019
Alden O'Brien, curator of costume and textiles at the DAR Museum and a member of the JASNA-DC region, will preview her Williamsburg AGM talk — "American Gothic: Architecture, Design, and Teenage Fangirls in Federal America" — on Sept. 21 from 3:30 to 5 p.m. in the lower-level meeting room at the Cleveland Park Neighborhood Library. Please email us via the Contact page if you plan to come and perhaps to indicate interest in a potential restaurant gathering afterwards. (Walk-ins will also be welcome.)
---
Saturday, Oct. 12, 2019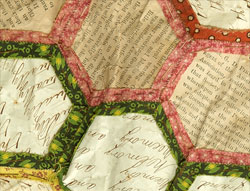 Get the inside story of Jane Austen's Chawton home, now known as
Jane Austen's House Museum
, from two eminent and entertaining visitors:
Sue Dell
, collections volunteer at the museum and expert on the Austen coverlet, and
Martyn Dell
, JAHM Trustee. The program will include a daytime workshop on English paper piecing, the technique the Austen ladies used to make their coverlet, followed by an afternoon conversation and reception in which Martyn and Sue will answer our questions about the house museum–past, present, and future.
TO RESERVE YOUR SPOT, CLICK HERE OR ON THE IMAGE BELOW.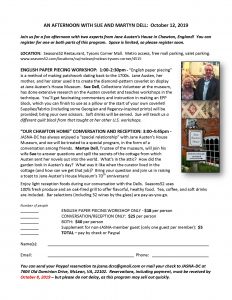 ---
Save the date!
Saturday, Dec. 7, 2019
Dr. Sarah Marsh, director of Women's, Gender, and Sexuality Studies at American University and the 2020 Margaret Henry Dabney Penick Resident Scholar at the Smithsonian, will share new insights on "Mansfield Park" — particularly as it relates to a prominent legal case — at our annual Jane Austen December birthday celebration. Time and location to be announced.
Questions? Contact JASNA-DC
Join
We invite you to join us by becoming a member of JASNA, the Jane Austen Society of America.
As well as communications from JASNA you will receive news from JASNA-DC via our newsletter The Austen Scribbler with invitations to events and Jane Austen news.